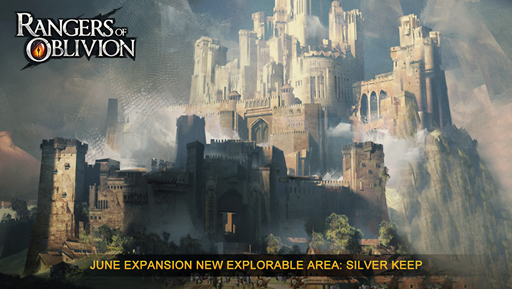 Rangers of Oblivion- June Expansion New Update
New Explorable Area – Silver Keep
Silver Keep is the last standing shelter for humanity outside the Kingdom of Avalon. Many resources sites were abandoned around the outskirts of the city. Players can gather these basic resources to supply Silver Keep. The inner city of Silver Keep is the commercial district. Players can build a Blacksmith to forge all sorts of goods, build a Craftsmen Guild to make furniture for the Castle, and more other buildings.
New Hunt Mode – Primal Invasion (Hunting Drauga)
Primal Invasion is a high-level cooperative hunting event. 10 Players that join the fight are divided in two groups: Combat and Support. Completely new hunt mode with more interactive scene. Both groups will receive a Primal Bloodstone after defeating a Primal Behemoth.
New Main Quest – Chapter Eleven : Blood Pledge
Under the erosion of Drauga, Silver Keep is in dangerous, time for the rangers to guard the castle.
The coming update also contains brand new Events, Wildsouls, and a newly designed weapon system - Ancient Engravings. Applying the engraving on your equipment will enchant it with the power of the ancient gods.